Join CISVers from all over the world for five days of inspiration, knowledge-sharing, and fun at the 2022 CISV Global Conference in the Netherlands. The event will offer valuable sessions and activities to equip you with knowledge and tools to bring back to your Chapter.
The CISV Global Conference is held every three years and is our premiere event. Well attended by our volunteers from around the world, the Global Conference is a four-day event featuring notable speakers, a wide range of sessions and activities, as well as entertainment and special events.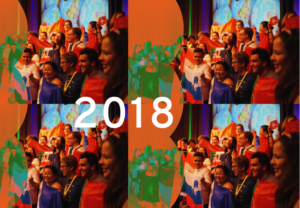 The third CISV Global Conference will be held 9 – 14 August 2022 at the NH Eindhoven Conference Centre Koningshof, Netherlands; Global Conference attendees are assured a warm and friendly welcome. We will also be looking at the serious business of how we can grow and increase our impact and contribute to increasing mutual understanding between individuals, communities, and countries across the globe.
The 2022 Global Conference is projected to attract around 600 CISV volunteers and alumni from 69 countries, including over 100 young leaders from our youth-led Junior Branch.
The theme of the 2022 Global Conference is Evolve into Tomorrow, reflecting CISV's ambitions for increased reach and impact. CISV's Chapters, and the dedicated volunteers who run them, are the heart of our organization. The aim of this event is to equip delegates to further develop and grow CISV at the grassroots level.