The NH Conference Centre Koningshof is located 15 minutes from the centre of Eindhoven.
509 rooms for guests
On-site fitness centre, complete with tennis/squash facilities and track
Extensive grounds surrounded by forests
Indoor swimming pool and sauna
On-site solarium
Bike hire available (with applicable charges)
Free public parking
Free wireless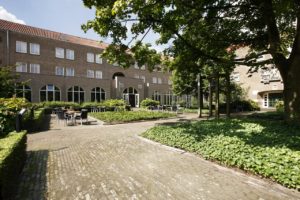 With 83 meeting rooms throughout the hotel and capacity for 2000 people in one space, the NH Conference Centre Koningshof is well-equipped to handle the variety of sessions we will be hosting.
The sprawling facilities offer a beautiful outdoor terrace surrounded by lush greenery, perfect for relaxing when the weather is nice.
The hotel has two restaurants and two bars on-site, offering a wide variety of food and drink options.  The main bar, Abdijbar, is styled with rustic wooden tables and beams and offers authentic monastery-brewed beers, paying homage to the hotel's history as a monastery.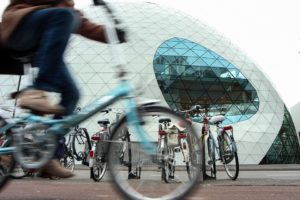 If you find yourself with time to explore, there are eight nature parks in Veldhoven which are accessible to the public from sunrise to sunset.
You can hire a bike from the hotel or take advantage of the many hiking options if you would like to explore the area by foot.
The innovation hub of Eindhoven is less than 10 kilometres away. The city of approximately 227,000 is the largest in the South of the Netherlands.  It is a European technological leader and the capital of Dutch design.  Whether you're looking for shopping, culture, food and drink, or a stroll in the park, Eindhoven has it!  Check out the Eindhoven City Guide to learn more.